» Our Partners
» Welcome!

Welcome to Star Bike Forums: the Yamaha Star motorcycle enthusiasts forum - a website dedicated to everything involving the Yamaha Star. We have many features on this website to make your experience here more enjoyable. The first step would be to REGISTER for free so you can take advantage of all the features we have to offer.
October 2014 Bike Of The Month
Nov 01, 2014 - 11:15 PM - by bevo1981
OWNER: derailed75

06' Road Star Silverado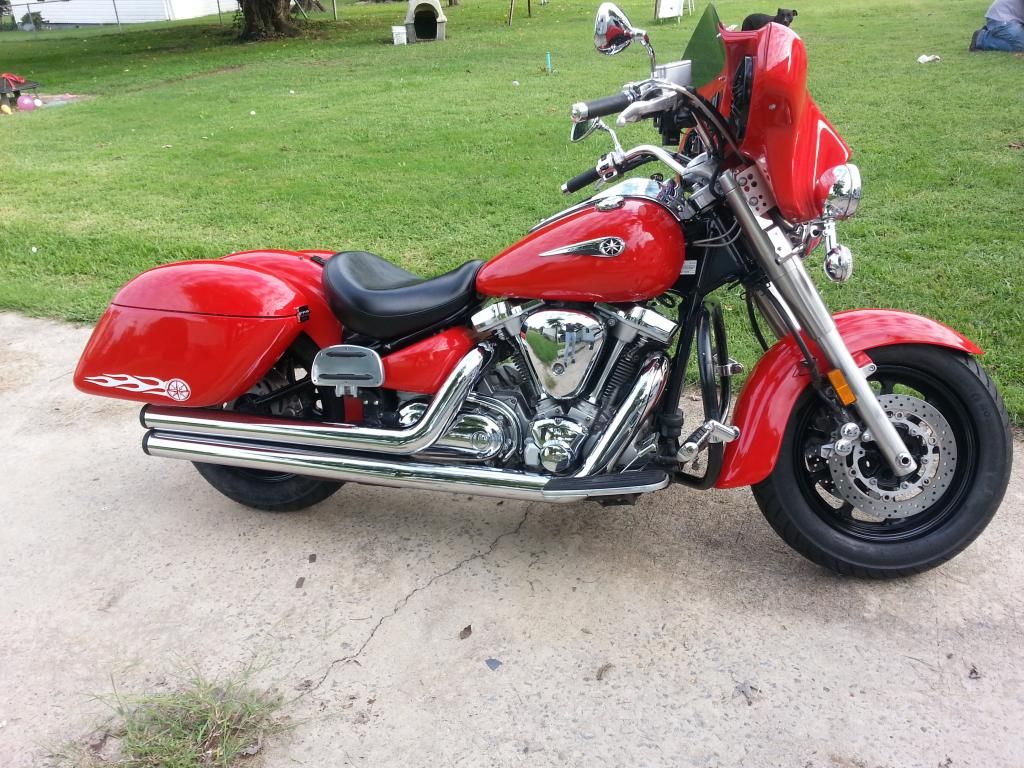 changed the seats out to non-studded. Painted the rims black and changed the tires out to black walls. Added Tuskayu strong hard bags. Reckless fairing Viper Red paint. A few custom decals. Only changes I have planned still to do are Freedom true duels, PCS lowering bars, Rear fender rack and Race tech springs.
0 Replies | 166 Views
September 2014 Bike Of The Month
Oct 01, 2014 - 6:45 PM - by bevo1981
owner: spidr


Year: 2000
Make/Model: V-star
Eng size: 1100
Modifications: Everything
Accessories: None?
Length of time to build: 14 months
And the story/inspiration/additional comments:
I've owned her since new. Rode her to every major event in my life.
And then about 8 years ago she got parked, and waited patiently for some love.

So last fathers day my kids stripped it to the frame, we pulled some important and useable parts, and made everything else from scratch.
... [Read More]
1 Reply | 454 Views
Intermot 2014: Yamaha 01GEN Multi-Wheel Crossover Concept
Sep 30, 2014 - 4:21 PM - by Motorcycle.com






Quote:

Yamaha revealed a new three-wheeled dual-sport motorcycle concept model called the01GEN at the 2014

... [Read More]
1 Reply | 522 Views
» Stats
Members: 11,984
Threads: 14,883
Posts: 125,152
Top Poster: bevo1981 (7,681)

Welcome to our newest member, CoolCatNap
» Motorcycle.com Latest News
Motorcycle Theft Prevention
On average, someone in the U.S. becomes a victim of a motorcycle thief every 11.26 minutes.
2013 Suzuki SFV650 Review
After a short hiatus, the Suzuki Gladius returns for 2013 with a new name - the SFV650. The unfaired, mid-displacement standard is mechanically identical to its predecessor, though it comes in a more color scheme and a higher price tag.
New 2014 Yamaha FZ-09, YZ450F & YZ250F
Introducing the 2014 Yamaha FZ-09 - an $8000 naked sporty bike with impressive specs and an alluring price. Also new from Yamaha is the 2014 YZ450F and YZ250F.
What to Wear When You Ride - and Why
Just because you are free to ride your motorcycle or scooter in the U.S. with hardly enough clothing for a beach party does not mean it's a good idea.
2013 KTM 690 Duke Review - Video
KTM's 690 Duke has reshaped what we thought possible from a single-cylinder streetbike. It boasts ultra-sharp responses, a surprisingly powerful engine, and a personality that's anything but dull.
» Online Users: 1,606
105 members and 1,501 guests
0Gravity, 2010roadlinerdeluxe, ArkM50, arsey51, Aspen, Barman84, bigmicko, Bigpimpdx, Bikermike, blueroadstar, Bonter60, Boob, BrianKDavis, Buzzard53, Charon, Chazzmichaels, cheebz, chr950vstar, cipher, cmonkey, commonground, CoolCatNap, Corsair, cratos1479, dalevancleef, danthefoodman2000, DavidB07, DirtyMike, dman17ford, DonDar, Double K, DYNA118, ebarr, FLICKER85, Fulltilt1, GEZ, Gillyman, gordo1313, Grim_Reaper, Hani, haninja, JBurrke, JimK, jp1, justinchee, Keith Post, kennemarv1, Kookynut, Kyle76, linerdave, M'Lady, MattA99, MegaJohn, Mespo, Midnight-2ITGuy, mirider, musicmanjer, Nevaryzarc, nick57, NightwingVStar, OG Velvet, Old V Star Man, oldjoe1300, olkives, osbornk, pangea33, Ramster555, ratbike115, rcronic, Redbankman, redcat, RickT1100, RidersDiscount, ridgwayrescue, RLC59, rmccutchan, Rsb6697, Safety Don, seitg74, shadowride69, shonuff, Sick Mick, skyking897, sonysnek, spaceinvader001, Squirrel509, StarGrandpa, SteveM, Strats, Summer, t84a, ThaOldMan, TheBrain, tigrzeye, tomas65, toomps, trux, umpire3, WBechtel, Whittler, willajabir, Worty, Wyovstar, YammyV, Zossamer
Most users ever online was 3,247, 06-07-2013 at 10:44 PM.