» Our Partners
» Welcome!

Welcome to Star Bike Forums: the Yamaha Star motorcycle enthusiasts forum - a website dedicated to everything involving the Yamaha Star. We have many features on this website to make your experience here more enjoyable. The first step would be to REGISTER for free so you can take advantage of all the features we have to offer.
August 2014 Bike Of The Month
Sep 02, 2014 - 11:55 PM - by bevo1981
OWNER: philleee

roadstar

1 Reply | 202 Views
July 2014 Bike Of The Month
Aug 01, 2014 - 11:39 PM - by bevo1981
OWNER: mtmous

2012 Roadstar 1700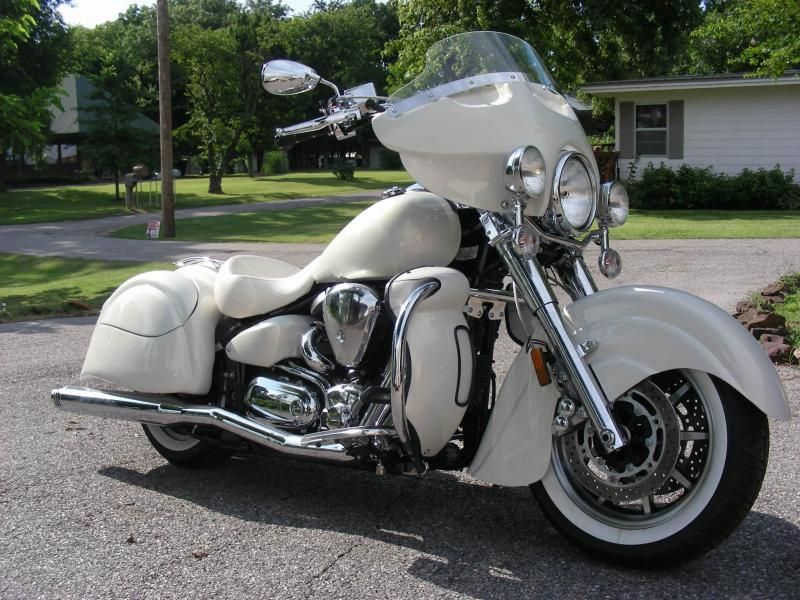 Bike name is Mighty Mouse II. (Mouse I was a Suzuki Boulevard).
Corbin bags (modified), Freedom exhaust, Rifle fairing and JTD lowers, Indian fender (modified), ED seat, Gold metallic white pearl paint.
5 months to complete, mainly because of budget restraints.
Corbin bags were modified by removing bottoms and making left bag shorter and right bag taller. Made necessary by Freedom duals. Teardrop turn signals added to bags and stock tree removed.
Mounts for Rifle fairing were made to fit... [Read More]
2 Replies | 428 Views
June 2014 Bike Of The Month
Jul 02, 2014 - 7:10 PM - by bevo1981
OWNER: Bujee1

2002 roadstar




My 2002 Old School Roadstar, True Dual Exhausts, beach bars, chrome floor boards, and anything else I could find from the catalog! It came with custom paint and most of the accessories. I added the bags, tank bra, and exhaust. Six month project, most of the time spent shopping
3 Replies | 568 Views
» Stats
Members: 11,657
Threads: 14,439
Posts: 121,841
Top Poster: bevo1981 (7,416)

Welcome to our newest member, Okssor
» Motorcycle.com Latest News
Motorcycle Theft Prevention
On average, someone in the U.S. becomes a victim of a motorcycle thief every 11.26 minutes.
2013 Suzuki SFV650 Review
After a short hiatus, the Suzuki Gladius returns for 2013 with a new name - the SFV650. The unfaired, mid-displacement standard is mechanically identical to its predecessor, though it comes in a more color scheme and a higher price tag.
New 2014 Yamaha FZ-09, YZ450F & YZ250F
Introducing the 2014 Yamaha FZ-09 - an $8000 naked sporty bike with impressive specs and an alluring price. Also new from Yamaha is the 2014 YZ450F and YZ250F.
What to Wear When You Ride - and Why
Just because you are free to ride your motorcycle or scooter in the U.S. with hardly enough clothing for a beach party does not mean it's a good idea.
2013 KTM 690 Duke Review - Video
KTM's 690 Duke has reshaped what we thought possible from a single-cylinder streetbike. It boasts ultra-sharp responses, a surprisingly powerful engine, and a personality that's anything but dull.
» News Archive
May 2014 Bike Of The...
Last post by
Keith Post
4 Replies, 1,772 Views
April 2014 Bike Of The...
Last post by
Slade
3 Replies, 3,921 Views
March 2014 Bike Of The...
Last post by
russell
2 Replies, 6,307 Views
February 2014 Bike Of...
Last post by
Old V Star Man
2 Replies, 9,085 Views
January 2014 Bike Of The...
Last post by
Old V Star Man
2 Replies, 11,083 Views
» Online Users: 1,217
111 members and 1,106 guests
0Gravity, 2010roadlinerdeluxe, 650vstar2003, Ajbirdboy, ArkM50, baldddguy, bbrovold, bevo1981, bigmicko, Bigpimpdx, BirchyBoy, blueroadstar, Boob, brandon_ml, BubbaGee, carroll johnson, Charon, Chazzmichaels, cheebz, cmonkey, Cornflakes'Custom, Corsair, craig, cratos1479, crispy, dalevancleef, danthefoodman2000, Darksider, dbye, derailed75, Desrtdawg113, DirtyMike, dman17ford, DonDar, DYNA118, EuroTrip, farmalldanzil, flamingonc, FLICKER85, Foothills, frogman, GEZ, gijoshua, gordo1313, Hambonevw3, haninja, heavyhaul, irishd, jansenkos, JBurrke, justinchee, JuTatu, Keith Post, kevinc, Kookynut, Kydoghunter, Laramie50, Larry Gude, lesblank, M'Lady, mackstradamus, Mark1118, mcinelli, mirider, myrnie1209, Nevaryzarc, nick57, NightwingVStar, Okssor, Old V Star Man, oldjoe1300, olkives, pangea33, quenston, rayvin57, Redbankman, redcat, RickeyG, RidersDiscount, rmccutchan, Rsb6697, RyanG, schmidter1, scottvs950, scottyg, seitg74, shadowride69, shonuff, skyking897, Slayer, socaltxwa86, sonysnek, spaceinvader001, sparkn, Sportsmanphil, SPYWIZARD, Squirrel509, SteveM, Strat17331, Summer, swfly, tazman34685, tigrzeye, tinner, trosky, vstar-sweden, Whittler, Worty, Wyovstar, yawnson82, Zossamer
Most users ever online was 3,247, 06-07-2013 at 09:44 PM.