commuter pack review
---
I was in search of the best backpack for a biker. I wanted something that was waterproof, had a lot of room for storage, was comfortable to wear while riding, and had plenty of compartments. I found what I was looking for.....a
surfer's
pack. This was designed specifically for surfers and it is the best pack I found online to keep items dry if you get caught in the rain while riding. The
F-Light Surfer Pack by Rip Curl
. I wanted to wait until I was able to fully test it in the rain before offering my review, but I haven't been so lucky yet. Here's my review.
Accessories
Their website used to show a better photo of that guy with a fully loaded pack. The "40" stands for 40 liters of capacity. That's 10.6 gallons, or 2441 cubic inches which is larger than the vast majority of saddlebags on the market today. Most tailbags are somewhere between 40-60 liters. My main concern was that the pack was going to be
too
big when I was wearing it, riding or walking. But when not full, it collapses quite nicely.
If you can't see the measurements clearly, that's 15" wide by 20" tall by 4" deep when empty. It is very comfortable to wear, aided by the 'crossbar' design of the shoulder straps near the top. This helps pull the weight off your back and shoulders. I don't know the physics of it, but it feels great. The front zippered compartment opens up to expose an inner zippered compartment for smaller items. The top zippered compartment of the pack is for some smaller, easy-to-get-to items. The main 'dry' compartment is felt-lined and has a sleeve specifically for your laptop. There are 2 side compartments that go up the length of the pack, one specifically made that that silver thermal layer to keep hot things hot and cold things cold.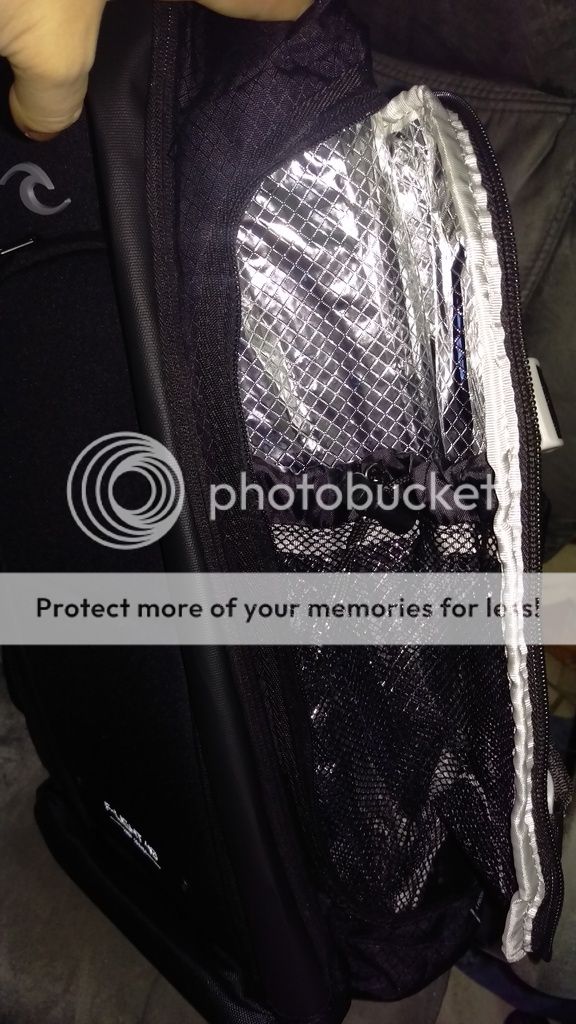 And the main reason I purchased the bag. The 'wet' compartment. That is, the company designed the waterproof compartment specifically so surfers could put in their wetsuit and other wet items after their day of fun in the water was over to keep from getting all the other items in the pack wet. But it works the same way if you want to keep items dry when it rains you just put those in this 'wet' compartment. It is a roll-down bag within the pack and is bigger than the main 'dry' compartment of the pack. I have been storing my rain gear in their for now (jacket, pants, boot covers). And even though I haven't tested it in the rain yet, I did manage to spill a decent amount of soda on one of the backstraps and all of the liquid stayed on the outside part of the mesh which was completely wiped up with a napkin. So even the straps are designed to help repel liquid. Cool.
So how much for this kickass bag?
$108. Free shipping.
The company is based in Australia but there are U.S. outlets and dealers who provide free shipping. Unreal. I didn't find another bag on the market that had all the things this had, and most of the comparable ones were at least $150. I found a diamond and I recommend this to anyone looking for a bag to commute with, or even just to add to your current travel bags. As long as the 'wet' compartment really works.
---
on a steel horse I ride
i create motorcycle videos.
check them out here
Moderator
Join Date: Mar 2016
Location: Massachusetts
Posts: 1,094
Thanks for this review. I work at the Sports Authority so I get access to really awesome gear that people wouldn't usually think about for use with a motorcycle.

I haven't purchased saddle bags yet cuz I want to save up for hardbags and color match them.

I've been looking at backpacks. A good one makes sense. If it's a day trip or even an overnight. You don't need to unpack stuff from your bike. It's right on your back.
---
Keep moving, learning, loving, and living.
Posting Rules

You may not post new threads

You may not post replies

You may not post attachments

You may not edit your posts

---

HTML code is Off

---