How To Post Photos
---
I've created a quick tutorial showing how to post images using Imageshack. I noted that a few people were unsure how to do this, kept posting thumbnails, etc. This procedure may work for other image hosts as well, but I use Imageshack.us.
Step 1
Go to imageshack.us. You have the choice of creating a free account, or not. I prefer to use my own account, so I set up a free one. Go to the media upload page, which should look like the one below.
Click on the browse button and select the file or files (you can select more than one) you want to upload. Click on the open button to close the selection window, then click on Upload.
Step 2
Ensure that the image size is set to 640x480 (message board size.) You could select a higher resolution if you wanted, but under most circumstances 640x480 is pretty viewable. It's not really necessary to put things under tags, unless you want people to be able to publicly search for these photos via Imageshack. Click on Upload now when you've set the image size.
Step 3
Your image(s) will now be uploaded to Imageshack.
Step 4
Depending on whether you uploaded one image, or multiple images you will see two possible screens, showing your images. Click on the image if it's a single image, or right click on the image and select view image if you uploaded multiples.
You should now see a screen similar to the one below.
Click on Embed this image to expand it, then right click on the text box to the right of the word Forum, and select Copy.
You now have the code you need to post the picture in your forum topic, but there's still a bit more to do.
When you're typing your post, and you're getting ready to put your picture in - DON'T click on the insert picture button. Just right click and paste your copied code from the previous steps. It should look something like this.
HTML Code:
[URL=http://imageshack.us/photo/my-images/33/step4xp.jpg/][IMG]http://img33.imageshack.us/img33/8861/step4xp.jpg[/IMG][/URL]

Uploaded with [URL=http://imageshack.us]ImageShack.us[/URL]
We want to clean this up a bit, so delete the line where it says "Uploaded with .... to the end of that line where it says ...URL]
If you find this helpful or would like to have me change something, please feel free to comment.
---
"Never ask a question that you may not be prepared to have answered. "
Mark Rippetoe
this might help with pics...
---
hope this helps people having problems with up loading pics....now i used photobucket.....and all the steps might not be listed but it might help....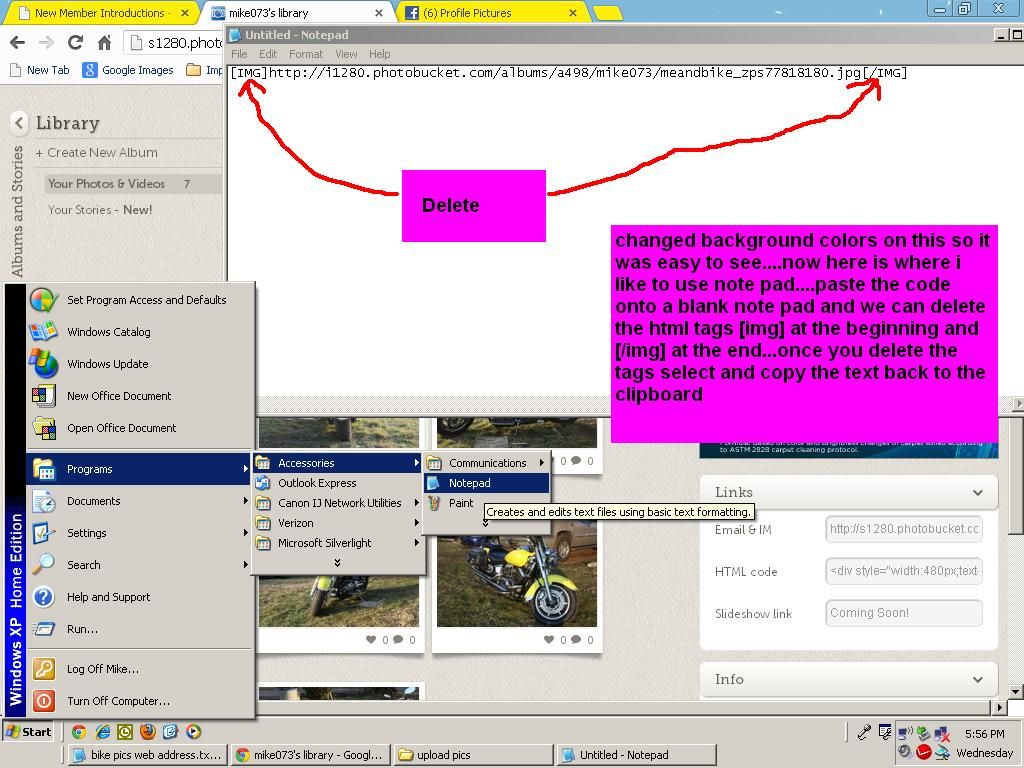 Banned
Join Date: Aug 2010
Posts: 4,088
BINGO, pretty much the method I use. But if you click the Photobucket's direct link instead of the image codes to the picture you won't need to delete the [IMG] thingys.

But then again, if you use the image codes you can copy it into your post without needing the insert image icon.




---
Last edited by stratowart; 03-20-2013 at

06:50 PM

.
so i did ok then....lol.....
---
Last edited by mike2006; 03-20-2013 at

06:47 PM

.
Banned
Join Date: Aug 2010
Posts: 4,088
You done good Mike, you done good.




Thanks for posting this. This is a great thing to have.
---
2006 Yamaha Stratoliner Midnight.


Give blood Play Hockey
Quote:
I don't understand what this is for.
its a guide for loading pictures for people that are having problems posting pic....
---
2006 1100 custom
lemon yellow with pearl
classic fenders
Bub drag pipes with 45 degree cut-off
Kuryakyn Pro-R Hypercharger
studded saddle seat
studded passenger seat
studded back rest
silverado saddlebags and windshield
driving lights
lizard lighting kit
chrome fender tips
chrome battery cover
flaming skull tool kit cover
chrome neck guard
oil filter re-locator
studded tank bib