View Poll Results

: BOTM MARCH

Lcgixxer87
3
16.67%
vstardavid
1
5.56%
nary4tom96
9
50.00%
Blacky
1
5.56%
mob71
1
5.56%
rburgess58
0
0%
Apostilic
1
5.56%
Exsomos
2
11.11%
Voters: 18. You may not vote on this poll
BOTM March voting
---
YOU ARE VOTING ON MARCH BIKE OF THE MONTH
OWNER:
Lcgixxer87
Year: 2009
Make/Model: Yamaha Raider
Eng size: 1854cc
Modifications: Cobra Dragster Pipes, PCV, 240 rear tire
Accessories: Spike Bolts, Tag Modded With Spikes, Spike fender bolts, Spike Grips and Pegs, Spiked Skull mirrors.
Length of time to build: Owned since July 4th, 2013
And the story/inspiration/additional comments: I bought this Raider last year in July. Picked it up in the monsoon rains we were having at the time. I was a sportbike rider for 4 years prior so I wanted a fast cruiser. Bought the raider and I love it. Have done a lot of spike mods and plan on tips for the dragsters as I love the sound and eventually a big air kit and a fresh tune. Just riding the roads in style.
Here is all the pics I've got uploaded. Let me know If I need more. My name is Chris.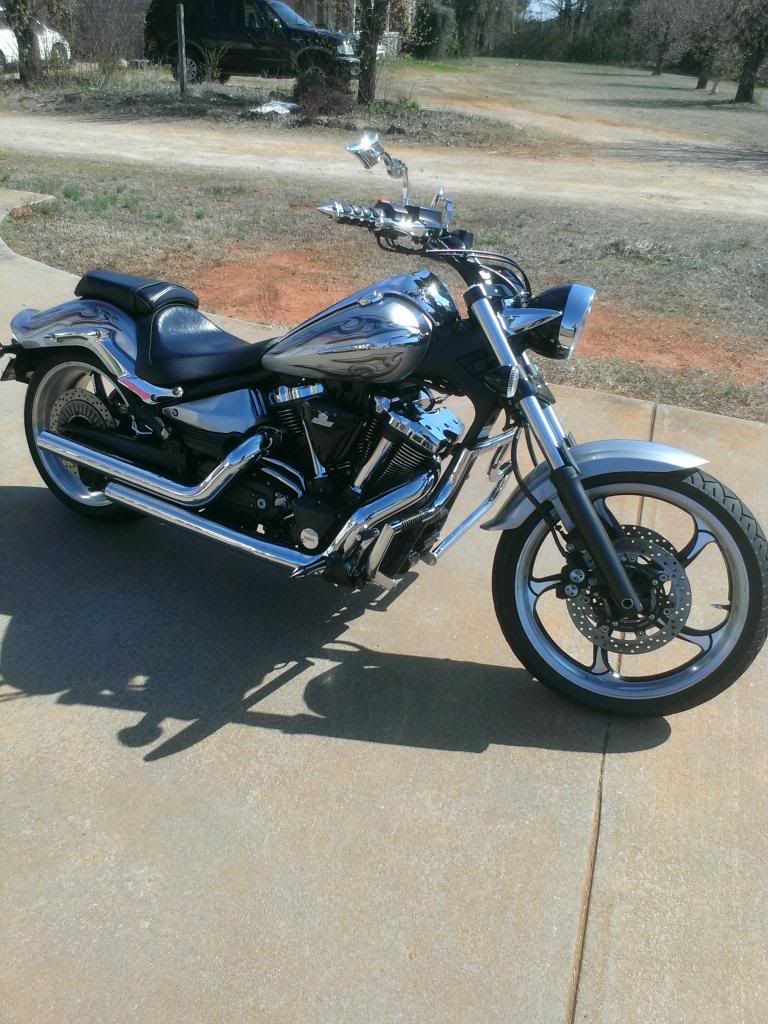 OWNER:
vstardavid
vstar 1100
OWNER:
nary4tom96
2009 yamaha v star 950
OWNER:
Blacky
2002 Roadstar
OWNER:
mob71
2005 v star 1100
OWNER:
rburgess58
2014 Yamaha 950 Bolt Spec
OWNER:
Apostilic
2004 1100 VStar Silverado
OWNER:
Exsomos
2003 V-Star Silverado 1100
---
on a steel horse I ride
i create motorcycle videos.
check them out here
CONGRATULATIONS TO nary4tom96!!!
---
on a steel horse I ride
i create motorcycle videos.
check them out here
Posting Rules

You may not post new threads

You may not post replies

You may not post attachments

You may not edit your posts

---

HTML code is Off

---