Discussion Starter
•
#1
•
YOU ARE VOTING ON StarBikeForums 2011 BIKE OF THE YEAR
12 months. 12 bikes. let's find out your favorite from this past year! you are voting on all the past winners of 2011. the poll is broken up in 2 threads but there can be only one overall winner.
Owner:
StarParts
it is a canteen (mounted to the frame). I can use it for anything to drink, I use it for iced Redbull, But you can use it as an extra gas can on the road for long hauls. It was my choice to use it for a drink canteen, cause if I used it for extra gas, that would be the only thing you can hold in it after that. Unless I take up drinking gas. I drink an occassional Martini, does that count??!! LOL Sean at
www.StarParts.org
I can make ya one if you like?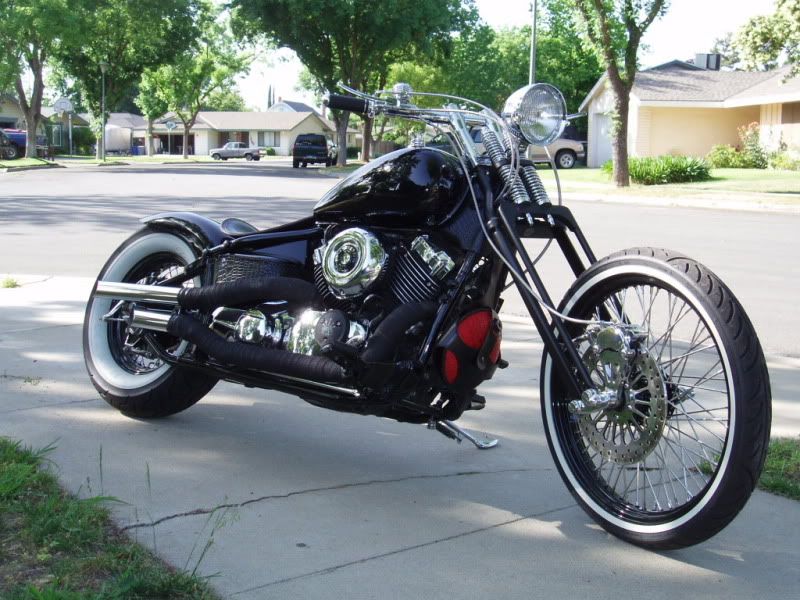 Owner:
Kiroo
My 2009 V-Star 950
Not alot of mods,just a solo mustang seat with back rest & rear fender bib,run a national cycle chopper screen on the long hauls,will eventually be changing the handle bars (undecided) & muffler (cobra slash down).
Just like to keep it simple but effective.
My bike at Hastings Marina,Western Port,Melbourne,Victoria,Australia
Took a short ride down the peninsula of Port Philip bay & Western Port,the Western Port part of the ride is the best,great scenary, ocean views & good variations of riding conditions.
Owner:
dragger
Accessories an more pictures
http://www.cruisercustomizing.com/usamljenijahac
http://community.webshots.com/user/ebacelic101
My Beauty
Owner:
farmalldanzil
2006 Yamaha V-Star 1100 Silverado with 4X1.5 risers, small engine guard, Corbin solo seat,tall Silverdao windshield, Kuryakyn roadpegs, Kuryakyn brake peddle cover, clutch&brake lever covers, french-ed head light, french-ed turn signals F/B, spiked windshield bolt kit, spiked/chromed custom license plate holder, chrome allen bolt plugs and driver back rest. Dirty White Boy Exhaust by The Hacksaw Mafia.
OWNER:
bevo1981

Year: 2009
Make/Model: Yamaha V Star
Eng size: 950
Length of time to build: 2 years
And the story/inspiration/additional comments: the bike is a Texas theme. cracked bone wrapped in rusted barb wire.
Modifications:
PIAA headlight bulb
OEM bomber plates
Kuryakyn transformer grips
Kuryakyn brake pedal
Kuryakyn heel and toe shift covers
Kuryakyn curved/lighted side mount license w/custom bracket
Kuryakyn scythe mirrors
Cobra Fi2000r O2 fuel processor
LA Choppers XXX air kit
Vance & Hines pipes custom black ceramic
Pacific Coast Star lowering kit
Pacific Coast Star progressive spring
Mustang studded wide solo seat
Klock Werks hugger series Slicer model front fender
Radiantz LED rear turn signal and custom mount bracket
Mathias Airbrushing paint job
Texas Steelhorse Saddles seat job
Accessories:
OEM big bar engine guard
OEM luggage rack
BACK OFF brake modulator
Kuryakyn throttle boss
Kuryakyn transformer highway pegs
Kuryakyn power point
OWNER:
Swomack

My Black Beast Bagger
Yamaha 2010 Stratoliner Deluxe With The Following Mods:
Cobra Speedster Longs
Cobra Fi-2000 Fuel Management Unit
Yamaha Seconday Drivers Lights
Low & Mean Chin Scoop
Touring Windshield
Smoked Shortie Windshield
Windshield Bags
Speaker Upgrade With Amp (Kicker 5250's with Alpine 455 amp)
Iso Grips
Stiletto End Caps
Custom Chromed Mirrors
Chromed Levers
Chromed Throttle Bosses
Chromed Driver & Passanger Floorboards
Chromed Shifter Cover
Chromed Brack Cover
Lay Down Chromed License Plate (Home Mod)
Fairing Insert Mod (Home Mod)
K&N Air Filter