Discussion Starter
•
#1
•
YOU ARE VOTING ON StarBikeForums 2011 BIKE OF THE YEAR
12 months. 12 bikes. let's find out your favorite from this past year! you are voting on all the past winners of 2011. the poll is broken up in 2 threads but there can be only one overall winner.
owner:
hdeater113's wife
2002 650 classic
Owner:
Aussielad
This is my 1998 XVS 650A Dragstar Classic 650cc.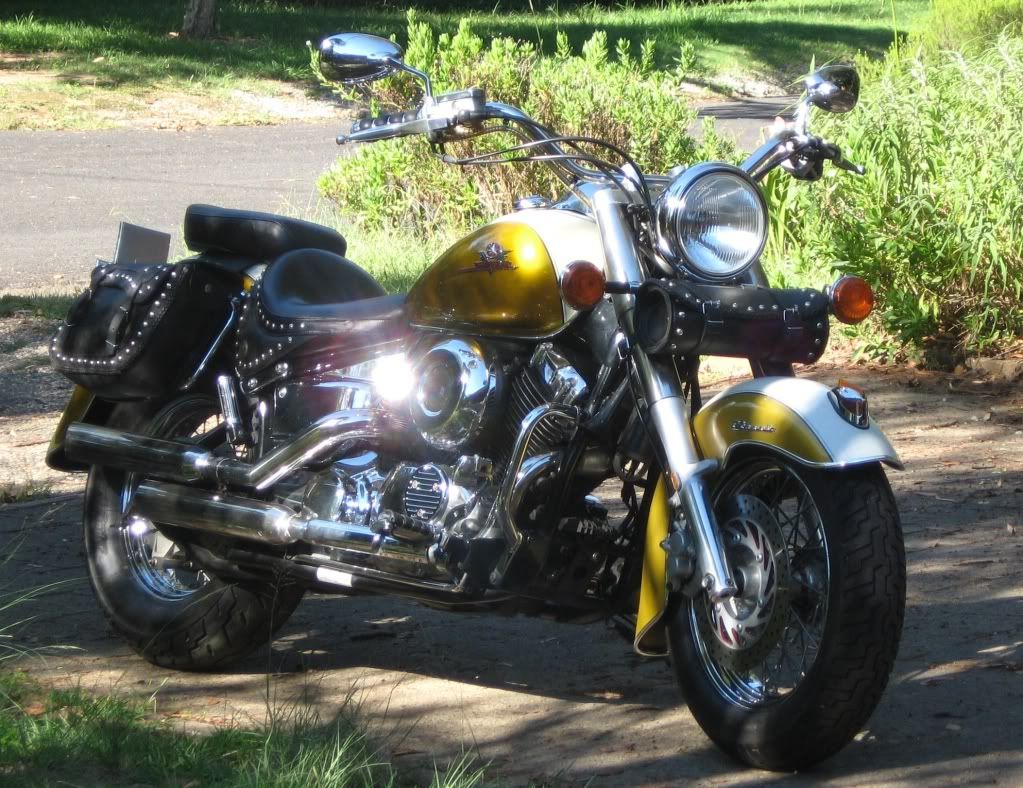 Modifications: It has Custom paint, toffee-gold metallic with Pearl White metallic and black and silver pinstriping. Jama Slash Cut exhaust, Beach Bar style Handlebars, Custom Saddle, Chrome edging to fenders and tank.
Accessories: Crash bars, Kuryakin Grips, pegs, brake and gear peddles, antique front fender light, tombestone tailight, airhorns, restored and restudded Willie & Max saddlebags, leather handlebar/fork toolbag.
Length of time to build: 5 Months.
I have always loved cruisers. I bought this bike as a partial restoration after a long time away from bikes, had to do some respraying and thanks to the U.S. I was able to get all the aftermarket pieces needed to finish the bike.
Owner:
Festus
2007
Yamaha Roadliner Midnight
1900cc's of Harley eating power!
Cobalt Blue Real Flame Paint, Cobra Drag Pipes, Küryakyn Flame Grips, Küryakyn Sound of Chrome Stereo, Fi200R Fuel Processor, Star Raven Bags, Star Detachable Windshield, Cobra Big Boy Crash Bar, Cobra Backrest, K&N Air Filter.
I bought my baby in 2008 when I went to a Yamaha dealer here in Ft. Worth looking for a used Harley, While looking I saw her and while there I kept being drawn to her, after walking back to her over and over I knew that this was the bike for me, I bought her straight off the showroom floor no test ride no nothing! best decision I made, I love this bike and have shown several Harley's where they stand! I have slowly been making her my own and I still have a little to do. In the near future I am going to put some mid rise ape's on her and if I can find the right kind of fairing I will add that, and a power commander. but other than those few item's she is where I want her to be.
Owner:
cgpinoy
Owner:
IronMan
Year: 1997
Make/Model: Yamaha XVS 650 Drag Star (European Model of the V Star)
Modifications:
- 210/50R17 rear wheel mounted in a modified swing
- side mounted license plate
- self built rear fender with taillight integrated in a selfmade fibreglass housing
- self built solo seat
- rear turn signals "spear" bolted to the original fenderstrut attachement point
- stretched and cleaned fuel tank with flush pop up filler cap made by
www.stretchtank.com
- Hypercharger with custimized "iron cross" cover
- Silvertail k02 exhaust with racing baffles and shortened upper exhaust manifold
- forward controls made by "burchard"
- 4" Pullback risers
- 92 cm Dragbar with inside wiring
- custom grips and mirrors
- front turn signals "snake eye"
- airdam with selfmade air scoops
- polished stock fork crowns
- polished lower fork tube
- custom made upper fork covers made of polished aluminium
- headlight "snake" with blue lens
- shortened stock front fender
- steel braided cables and brake hose
- mini speedometer with self built holding bracket
- reinforced fork springs
- custom paintjob in candy blue and black, splitted by silver tribals with highlights and shades
Length of time to build: can´t say exactly, about seven months - but some smaller mods were done within the years before
And the story/inspiration/additional comments: I bought the bike in 2005, without any mods. I was always fascinated by the drag bikes, which is a very popular special style in europe. At 1st I started with some smaller and cheaper stuff like license plate relocation and handlebars until i got the time and money to get into the heavy work. Almost everything was made by myself in my garage except the complex metal works like the fuel tank or the painting. Finally (it may be hard to believe for you guys) I had to show the bike to a state engineer to get the approval you need to drive on public roads with a vehicle in our country. Although we´ve got some strong regulations here, I got al the mods approved and incorporated in my documents now.
OWNER:
jonrwall
My 05 650 Vstar
2005 with blue collar bobber vstar kit. Bike was bone stock red and silver when I got it.