Discussion Starter
•
#1
•
YOU ARE VOTING ON StarBikeForums 2012 BIKE OF THE YEAR
let's find out your favorite from this past year! you are voting from all the past monthly winners of 2012.
OWNER:
Sick Mick
As It Sits Today - - Custom Paint and Striping by Johnny Vegas At Hi Speed Customs,Tucson, AZ – PCS 6* Raked Tree – Hard Krome Sideburner Pipes - Hand Built Front Fender – Modified Classic Rear Fender - Progressive Front Springs – Adjure Black Dot Tri Bar Headlight In Harley Fatboy Powder Coated Housing – Coke Bottle Grips – 12" Custom Apes – Harley Single Throttle Control – Handlebar Control Boxes removed – AIS Removed – "Silent" Pods With 157.5 Mains 20.0 Pilots – Metric Magic PMS "Thumb Screws" – Jet Holders Ground – SickBoy Fuel Solenoid Delete ("SSD" Kit) - Choke Conversion - Metric Magic Oil Pressure Gauge – Phat ORK – Turn Signals Removed - Tail Light Removed – Kuryakyn Vertical Side Plate Mount – Kuryakyn Phantom Chrome Axle Covers – Metric Magic Modified Stock Seat - Hidden Start Switch – Relocated Kill Switch – Clutch Lever Switch Removed – Kick Stand Switch Removed – Horn Removed - Front Brake Switch Relocated With Pressure Switch – Rear Brake Switch Bracket Removed And Replaced With Pressure Switch – Rear Brake Reservoir Relocated - Link Lowered 2" - Rear Fender Cover By Norm's Custom Leather Works – Demons Cycle "Z" Mirrors – Kuryakyn Spoon Levers - Chilowee Leather Grip Covers – Cables/Hoses From Metric Magic – Stock Classic Risers – Right Rotor/Caliper Removed – Painted Lower Forks – Custom Aluminum Drive Shaft Cover – Relocated Helmet Lock – Rear Caliper Cover By AdChrome – Classic Side covers – Star Parts Key - Real Motorcycle Tires
OWNER:
z_thunder
My 2003 1100 V Star Classic Customized
After her transformation...She's now The Low Star
OWNER:
eray
08 raven raider 14,000 miles, sumo-x 300mm fat tire kit, morton turned down exhaust, power commander 3, drag bars,stealth air kit, custom signals, custom side covers, lots of extras
OWNER:
ValStar
2000 XVS1100 Custom
OWNER:
BIGBOSS
My 2003 custom 1100
I dont like the shiney and clean I like them Black and Mean
BLACKED OUT
OWNER:
Kel
Year:2009
Make/Model: V Star
Eng size:950
Modifications: Custom paint job (candy burgundy and art) Vance and Hines Big Radius 2 into 2 pipes, headlight modulator
Accessories: Kuryakyn ISO Grips (black), Kuryakyn Throttle Boss (also black), Mustang Seat (passenger not installed yet)
Length of time to build: Purchased in October of 2012, ordered the paint job in December, first ride was on 8 May 2012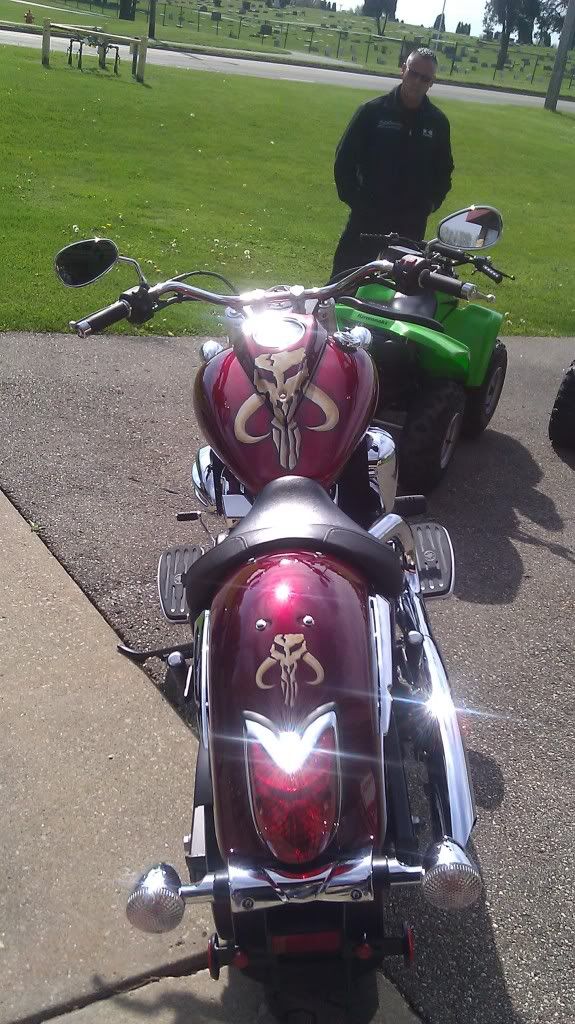 And the story/inspiration/additional comments: When I was twelve I was introduced to a barbed wire fence by a little 120cc mini bike. It not only hurt like hell (I still have the scars 16 years later) but it scared me away from bikes ever since. I hate being afraid of things, so I finally bought this bike. Needless to say I had no idea how to ride it, so while the paint was being applied I took the MSF Basic Riders Course. Talk about a confidence builder! When it finally came time to take my baby out I was rearing to go! A week and a half, and five hundred miles later my only regret is not jumping back on that little 120cc as soon as I healed up! Bonus points to whomever can point out where the skull comes from
OWNER:
dbergh
My new (to me) wheels!
2008 Roadliner
OWNER:
jhennly
Year: 2007
Make/Model: VStar Custom
Eng size:650 cc
Modifications: Raked trees, extended forks, lowered, front wheel swap
Accessories: Bars, risers, grips, mirrors, all lights including frame lights, HardKrome Exhaust, Hypercharger, HD horn, fork bullets, Pegs, rear wheel cover, driveshaft cover, swing arm covers, seat, side mount plate, aftermarket full rear fender-removed front fender, painted or powdered most of the chrome, or accessories that were purchased as chrome.
Length of time to build: Still at work
And the story/inspiration/additional comments:
My story is one of "love at first sight". I was in the market for a bike, and really had my eye on one from another brand, that was all black. Unfortunately, it was out of my budget at the time. I didn't give up hope though. I searched day and night, quite literally, for a cheaper alternative. I guess you could say I was slightly impatient. We'll before long, I found it. The Yamaha Midnight Custom 650 was the bike for me. The price was ideal, allowing me to pay cash for one, and call it all mine! Sadly, there wasn't one at the local dealer, so I began my tireless search again. At last, about two hours away, a dealer had one still in the crate, but said he could have it ready for me first thing in the morning. Well, guess who was waiting on him when he turned the key, and opened for business the next morning. A couple of signatures later, and I was the proud owner of a 2007 Vstar Custom. After a polite thank you or two, I bid them good bye. As casual as I could manage, I strolled out the door, and took a seat on MY bike for the first time. Our maiden voyage together was over 100s mile taking her back home. From that day forward, I've never looked back, and never regretted buying my VStar. It is truly a great bike!