Discussion Starter
·
#1
·
Hello everybody,
I'm a Noob here, so hello! Just bought an 06 Strat Deluxe S. This particular Strat is the most beautiful bike I've ever seen. Bought it from a Full Bird Colonel in Topeka KS. I'll post a few pics at the end of the story as to how I came to have this Strat. The story begins here.
My 26 year old son ( who is a Key West cop) calls me on the phone about two months ago and tells me that earlier in the year he had bought 60 raffle tickets from an organization called B.A.D.D. (Bikers against Drunk Drivers) and he was just notified that he was the second place winner of seven winners. To make a long story a little shorter he won a 1948 Custom built Ford pickup built on a 1986 Corvette chassis "Plus" a brand new Harley V-Rod motorcycle. He wants me to have the bike (see what happens Dads if you raise them right!). I graciously accept. After making changes to the V-Rod attempting to make it comfortable to ride, I come to the conclusion that it is impossible. This V-Rod is a piece of sheet and it does not deserve a spot in my garage. The son says " Sell it and get something else". It sells on e-bay the first day. "Now"... armed with a pocket of cash I can go shopping for something more to my liking. I scour e-bay looking for that perfect bike. Harleys...nah, BMW's...bad problems with the final drive units, Honda...seems as though they fell off of the fashion train about seven years ago, Kawasaki... that new Concourse 14 looks interesting but I already have a FJR 1300. Let's see what Yahama has to offer. 1100 and 1300 V Stars...nah, Venturer touring bikes...mmmm maybe, Stratoliner...what the hell is a Stratoliner? Wow... that's a nice looking bike. Lets have a closer look... Holy Sheet! That thing is beautiful! Hey Mister, send me some more pics. Oh my God! There it is!! I want "That One". I bought it and here it is...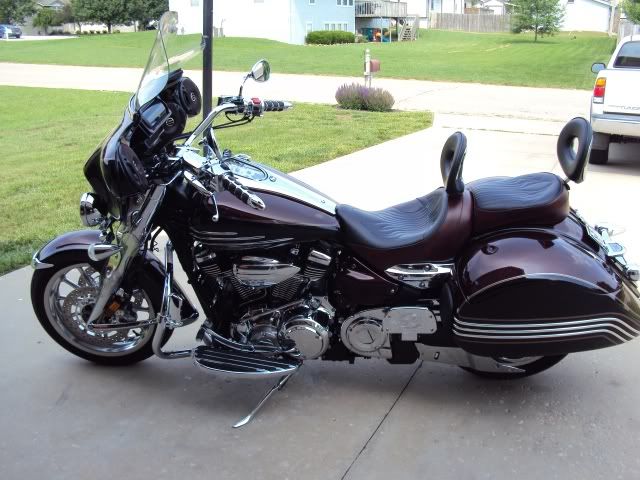 I'm calling myself "Fat Strat". It is a Fat Strat!