Discussion Starter
•
#1
•
YOU ARE VOTING ON APRIL BIKE OF THE MONTH
keep in mind that entries could only be limited to 8 pics for each voting period
OWNER:
mikegoz201
My '08 V Star 1100 Custom. Added Ultimate Solo Seat (very comfy), Memphis Shades Windshield, Baron's License Plate Frame,and Cobra Speedster Slashdowns (great sound). Had the carbs rejetted when I added the pipes. I also have a set of thowover bags for longer rides/trips.
Owner:
bcrutchleo
This is my 2009 V-Star 950. It has 18"x3.5" and 18"x5.5" 80-spoke American Wire Wheels, Freedom Pervormance Sharp Curve exhaust. No other mods yet but I did just order the lowering kit and I am expecting a fuel management controller soon.
Owner:
stratowart
'09 Stratoliner-S (leftover bought in Sept 2010)
Last summer met early one Saturday morning at a dealership for a memorial ride in Central Maine, rode in on my '02 Star Warrior...came home with this.
113 cu in
All stock except changed the tag holder to a curved lay down.
Owner:
Swomack
Sold my Raider for a pretty penny and purchased a Stratoliner Deluxe. I rode every
Bagger out there and like something about everyone of them but the 113 ci 1900 cc
Won me over. The Strat Deluxe was a smart move for me with the kind of miles I put
On all my bikes. I have put about $2,400 into the new bike so far and the next three mods
will really turn this new bike into something special. I plan on putting a 21" rim up front
And do another full wrap fender, then slam it to make it my own.
Owner:
Springer
'07 Stratoliner
On the road in Nebraska
Yamaha passing lights
Kuryakyn crash bars
Kuryakin highway pegs
Fairing with Fusion stereo/am/fm/CD
Yamaha bag rails
Tank bib
Fender trim
Done tastefully in black cherry
Owner:
farmalldanzil
2006 Yamaha V-Star 1100 Silverado with 4X1.5 risers, small engine guard, Corbin solo seat,tall Silverdao windshield, Kuryakyn roadpegs, Kuryakyn brake peddle cover, clutch&brake lever covers, french-ed head light, french-ed turn signals F/B, spiked windshield bolt kit, spiked/chromed custom license plate holder, chrome allen bolt plugs and driver back rest. Dirty White Boy Exhaust by The Hacksaw Mafia.
Owner:
Aussielad
This is my 1998.
XVS 650A Dragstar Classic 650cc.
Modifications: It has Custom paint, toffee-gold metallic with Pearl White metallic and black and silver pinstriping. Jama Slash Cut exhaust, Beach Bar style Handlebars, Custom Saddle, Chrome edging to fenders and tank.
Accessories: Crash bars, Kuryakin Grips, pegs, brake and gear peddles, antique front fender light, tombestone tailight, airhorns, restored and restudded Willie & Max saddlebags, leather handlebar/fork toolbag.
Length of time to build: 5 Months.
I have always loved cruisers. I bought this bike as a partial restoration after a long time away from bikes, had to do some respraying and thanks to the U.S. I was able to get all the aftermarket pieces needed to finish the bike.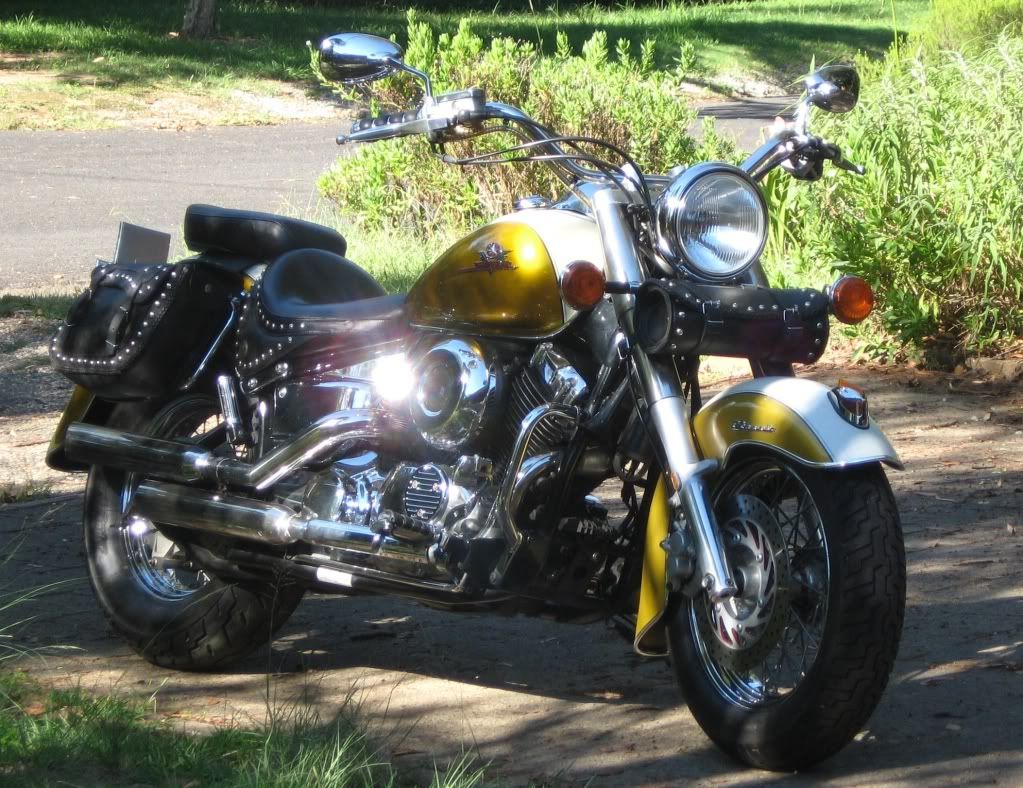 Owner:
Fat Strat
I bought the bike on e-bay from a Lt.Col. in Topeka Ks. I flew from Orlando, Fl to Topeka, Ks. and rode the bike home. The Col. made most of the mods but I have added quite a few myself.
The 61 tooth Harley sprocket gets the R's down quite a bit. I'm turning 2600 at 80 MPH. No problem pulling the tall gears, these bikes are torque monsters.
06 Strat Deluxe S
accessories are:
Wide Open Custom Fairing with Jensen marine AM/FM cd player with four Infinity Triaxail speakers
Breakaway cruise control
1" up and 2" back handlebar risers
Bucks lowers
Harley 55 watt driving lights
relocated front turn signals
Chrome front and rear fender tips
Garmin 2730 GPS/XM Radio and 4gb. Mp3 player
J&M CB and weather band radio
Kuryakyn Iso grips
Star crash bars with Kuryakyn "Switchblade" highway pegs
Kuryakyn front floor boards
Corbin stitched two tone Touring Seats with "Johnny on the Spot" back rests
Corbin Beetle Bags (bags and fairing are painted and pin striped to perfectly match stock paint scheme)
Luggage rack is generic, modified by me to fit
Tour pack is by "Saddlemen"
Rear tire is 215/60r17 Continental Dark Side (car tire)
Rear sprocket is a 61 tooth Harley
Lay down license tag bracket