Discussion Starter
•
#1
•
3 DAY PLAYOFF AUGUST BIKE OF THE MONTH!!
We have another playoff for bike of the month as these 2 are tied for total votes. You have 3 days to decide which of these 2 deserve to be enshrined in the StarBikeForums BOTM HALL.
Owner:
Aussielad
This is my 1998.
XVS 650A Dragstar Classic 650cc.
Modifications: It has Custom paint, toffee-gold metallic with Pearl White metallic and black and silver pinstriping. Jama Slash Cut exhaust, Beach Bar style Handlebars, Custom Saddle, Chrome edging to fenders and tank.
Accessories: Crash bars, Kuryakin Grips, pegs, brake and gear peddles, antique front fender light, tombestone tailight, airhorns, restored and restudded Willie & Max saddlebags, leather handlebar/fork toolbag.
Length of time to build: 5 Months.
I have always loved cruisers. I bought this bike as a partial restoration after a long time away from bikes, had to do some respraying and thanks to the U.S. I was able to get all the aftermarket pieces needed to finish the bike.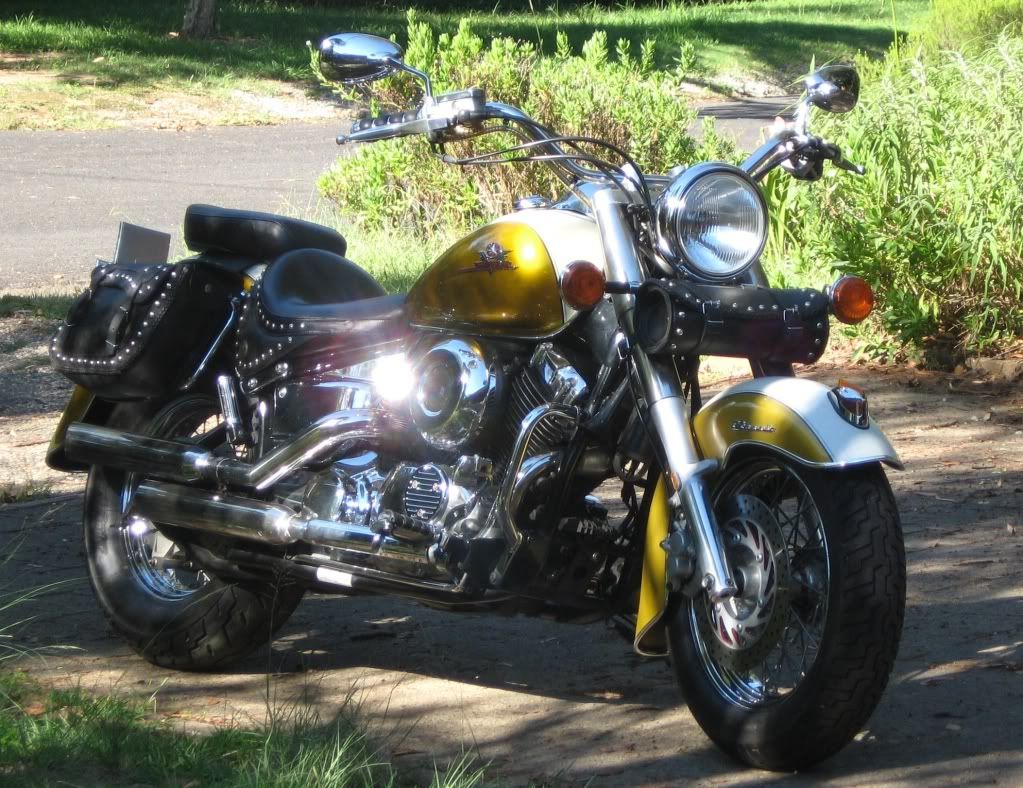 OWNER:
deven
2005 Yamaha Roadstar Warrior,95 Horsepower, with pullbackH&M Riser and 101 LSL Handelbar,Stileto Gripps,and aftermarket Mirrows.
Stock Engine with Power Comander and K&N Airfilters.Wide rear Rim 8x18 with 240/50/18 Tire.Fronttire 130/60.
Lowered.Stilleto Rear Fender,Stock Front Fender.Changed Seat. Thunderbike Exhaust.Kellermann -All in one- Turnsignals rear with Breaklight and Backlight.
serval things Powdercoaded and Wrapt with Carbon. GPS Security System Proteced by Securitas.and many More.All thing are Changed by Myself and Starbiker Friends