Discussion Starter
•
#1
•
YOU ARE VOTING ON AUGUST BIKE OF THE MONTH
The following contestants are runner-ups we've had so far from previous voting.
Owner:
DINGER
This is my "MIDNIGHT EXPRESS"
2006 Yamaha XV1900 Roadliner Midnight
1900cc Fuel Injected, air-cooled, 48 degree V-Twin
975 Original Miles
Date Purchased: 12/28/2009
I added the grip and lever fringe covers
Upgrades already done on the bike include:
Cobra Speedster Short Shots
Dynojet Power Commander III
Lowered 2 inches
Chrome alloy wheels, and drive sprocket.
Owner:
Aussielad
This is my 1998.
XVS 650A Dragstar Classic 650cc.
Modifications: It has Custom paint, toffee-gold metallic with Pearl White metallic and black and silver pinstriping. Jama Slash Cut exhaust, Beach Bar style Handlebars, Custom Saddle, Chrome edging to fenders and tank.
Accessories: Crash bars, Kuryakin Grips, pegs, brake and gear peddles, antique front fender light, tombestone tailight, airhorns, restored and restudded Willie & Max saddlebags, leather handlebar/fork toolbag.
Length of time to build: 5 Months.
I have always loved cruisers. I bought this bike as a partial restoration after a long time away from bikes, had to do some respraying and thanks to the U.S. I was able to get all the aftermarket pieces needed to finish the bike.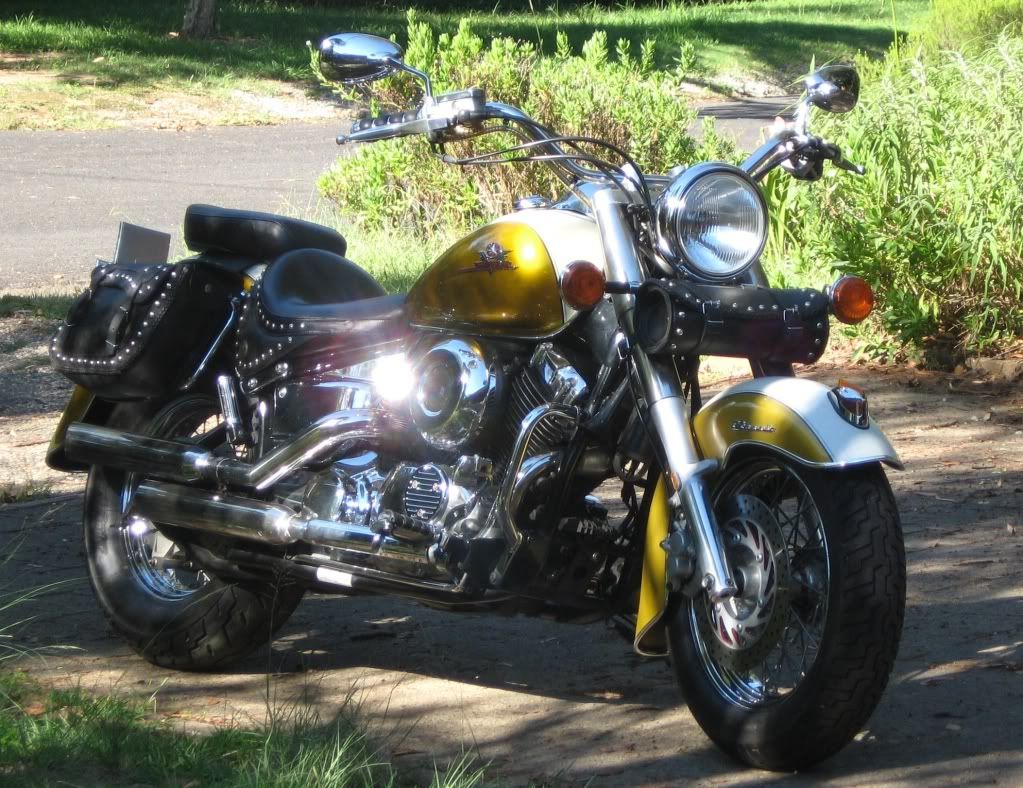 OWNER:
HTMNKYLVE

2007 Yamaha Roadliner
1854cc
Kuryakyn grips, floorboard covers,
pass floorboards
Corbin Dual Tour saddle
Lay down license plate(home made)
Roadhouse Classic 2 into 1
OWNER:
matt69scrambler

OWNER:
Springer

2007 Stratoliner "S"--Bullwinkle
Star passing lamps
Reckless fairing with Fusion stereo/CD player
Star highway bars
Kuryakyn highway pegs
Star Touring handlebars
Kuryakyn ISO grips
Leather UP tank bib
Star rear luggage rack
Star bag guards
Star bag rails
Star fender trim (front & rear)
Custom badges
Ultimate Mid Rider seat
OWNER:
deven
2005 Yamaha Roadstar Warrior,95 Horsepower, with pullbackH&M Riser and 101 LSL Handelbar,Stileto Gripps,and aftermarket Mirrows.
Stock Engine with Power Comander and K&N Airfilters.Wide rear Rim 8x18 with 240/50/18 Tire.Fronttire 130/60.
Lowered.Stilleto Rear Fender,Stock Front Fender.Changed Seat. Thunderbike Exhaust.Kellermann -All in one- Turnsignals rear with Breaklight and Backlight.
serval things Powdercoaded and Wrapt with Carbon. GPS Security System Proteced by Securitas.and many More.All thing are Changed by Myself and Starbiker Friends