Discussion Starter
•
#1
•
YOU ARE VOTING ON JULY BIKE OF THE MONTH
keep in mind that entries could only be limited to 8 pics for each voting period
OWNER:
taboo365
2010 Yamaha V Star 950 T.
Yamaha Big Bar Engine guard with Kuryakyn highway pegs.
Grass hopper quick release drivers back rest.
Yamaha OEM passing lamps with Star visors.
Star visor on headlight.
Kuryakyn ISO hand grips.
Chrom licence plate bracket.
Bought bike brand new in May 2010, now one year old, on going project. 5,700 miles so far.
OWNER:
Gator_Wood
2007
V-Star Classic
1100 cc
Mustang Seats, Sissy Bar, Yamaha Engine Guards and Kyuruken Highway Pegs, Yamaha Luggage Rack
I traded in my old Suzuki Savage for this beast back in November of 2010. Its been about six months and I've put over 13000 miles on her.
She's also the biggest beast on campus. royalty in the land of 150cc scooters
OWNER:
deven
2005 Yamaha Roadstar Warrior,95 Horsepower, with pullbackH&M Riser and 101 LSL Handelbar,Stileto Gripps,and aftermarket Mirrows.
Stock Engine with Power Comander and K&N Airfilters.Wide rear Rim 8x18 with 240/50/18 Tire.Fronttire 130/60.
Lowered.Stilleto Rear Fender,Stock Front Fender.Changed Seat. Thunderbike Exhaust.Kellermann -All in one- Turnsignals rear with Breaklight and Backlight.
serval things Powdercoaded and Wrapt with Carbon. GPS Security System Proteced by Securitas.and many More.All thing are Changed by Myself and Starbiker Friends
OWNER:
Davegcf
09 V Star 950
Tsukayu Fairing
Alpine Head Unit and Rockford Fosgate Speakers
Tsukayu Strong Hard Bags
Cobra Long Pipes with Thunder Monster Baffles
Cobra FMS
OEM Engine Bars
Custom Seat
Pro-1 Coil Cover
OEM Bomber covers
PCS Lowering kit and Progressive Rear Spring
Race Tech Gold Valve Cartridge Fork Emulators
Burly Bikini Beach Bars
Braided Steel Cables
Kuryakyn Floorboard Covers
Kuryakyn Shift Peg and Brake Pedal Covers
OEM Passing Lamps
Cobra Passing Lamp and Headlight Visors
Thunder Mfg. 40's style Teardrop Airkit
Vstar 1100 Classic fenders
Shiney Hiney Teardrop LED lights set up as Run-Turn-Brake
Kuryakun Curved License Plate Frame
Custom House of Kolor 2 Tone Paint Job
Custom Pinstriping and Gold Leaf by Me
OWNER:
jloverby
Year: 2004
Make/Model: Yamaha/V-Star Classic
Eng size: 649cc
Modifications: Paint
Accessories: Orange Windshield
OWNER:
Madpoet
2009 Vstar Custom Midnight
OWNER:
Jarhead1100
2000 V-Star Classic
1100cc
Mods:
Rear Seat and Sissy bar removed
Three Hole Exhaust Mod - 1/2 drilled holes
Accessories:
Chrome Rear Fender rack
Leather Tool bag mounted on bars
My inspiration actually began with the old school bobbers. I found a bit online, bluecollarbobbers.com. They had a kit to bob out a 650 and 1100 V-Star. I was all set to buy the kit but when I picked up the bike I couldn't make myself mod the old classic look of these awesome bikes. What I could do is keep the majority of it stock, but change up enough to make it mine. The result is the Dahlia.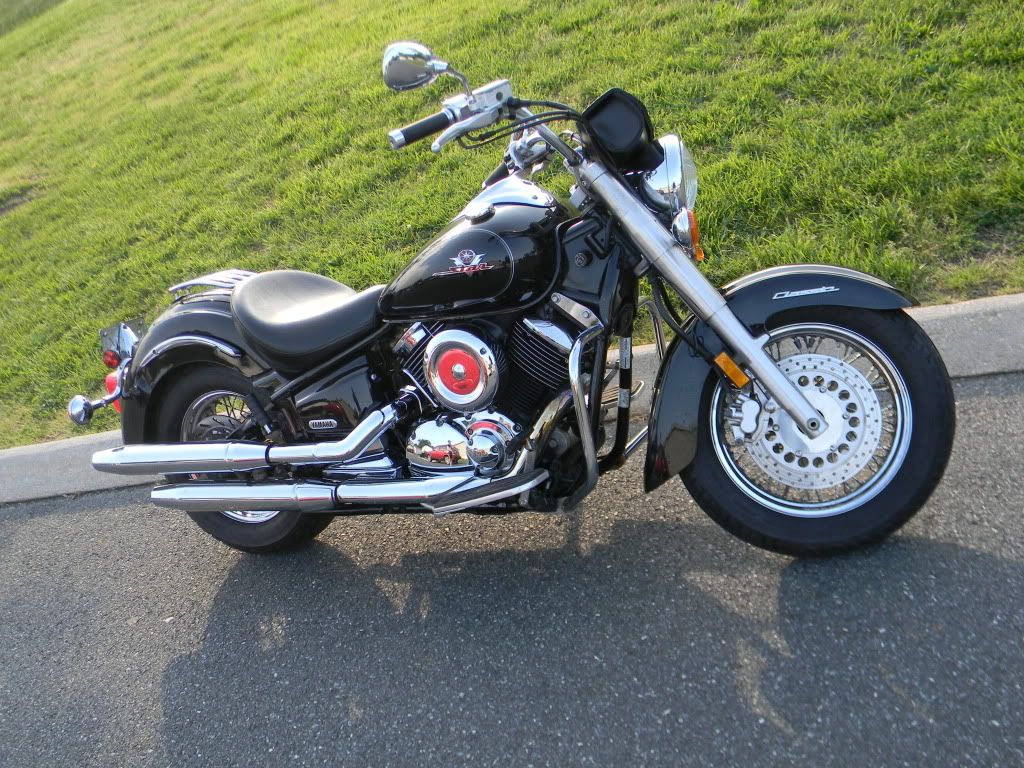 OWNER:
hdeater113's wife
2002 650 classic