Discussion Starter
•
#1
•
YOU ARE VOTING ON JULY BIKE OF THE MONTH
OWNER:
bassm1
2011 V-STar 1300T
Here's my June BOM entry. It's a 2011 V-STar 1300T that I picked up in Jan 2014. The orginal color was the OEM dark metallic red. I'm not a fan of red so I spray painted it a cobalt blue. I also added the following:
Mustang Wide Tourer Seats, Reckless Fairing, Cobra Crash Bar, Fi2000rCL, K&N air Filter, and a set of Roadburner Street Pro's.
OWNER:
drjekyl30
2012 Raider
Here is my 2012 Raider. I am honored to submit this bike as an entry for bike of the month. This is the base model 2012 bike, that really ugly liquid silver color with the pin stripes instead of the tribal flames from previous years. Since I didn't like the color I had the bile painted black and added the following parts.
Tsukayu gps fairing
LA Choppers Exhaust
PCV and Autotune
PR Hi-Flow Air Kit
OWNER:
mtmous
2012 Roadstar 1700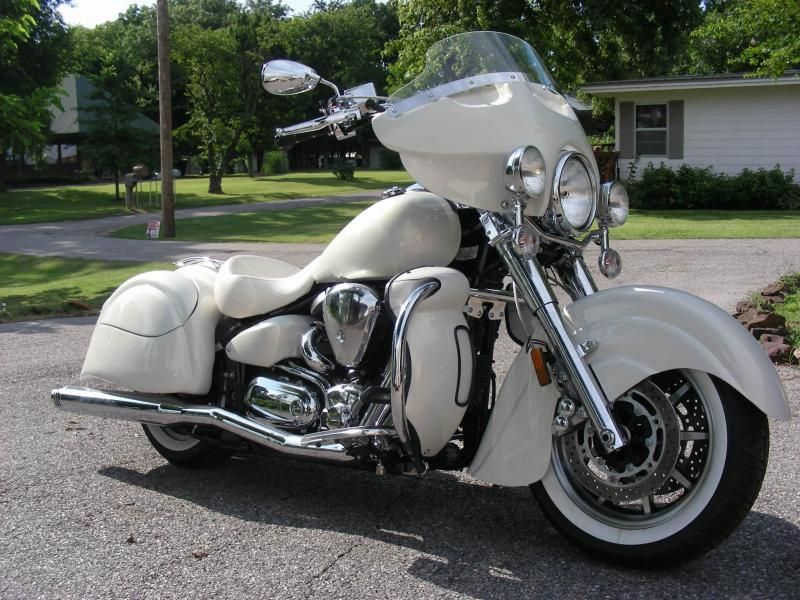 Bike name is Mighty Mouse II. (Mouse I was a Suzuki Boulevard).
Corbin bags (modified), Freedom exhaust, Rifle fairing and JTD lowers, Indian fender (modified), ED seat, Gold metallic white pearl paint.
5 months to complete, mainly because of budget restraints.
Corbin bags were modified by removing bottoms and making left bag shorter and right bag taller. Made necessary by Freedom duals. Teardrop turn signals added to bags and stock tree removed.
Mounts for Rifle fairing were made to fit OEM windshield mounts for easy quick change.
All metal and fiberglass work was done by me. Paint was by a pro in 2014 Harley Morocco gold white pearl.
Thanks to another rider for the used Corbin bags and Indian fender.
OWNER:
Bananapie
2012 Roadliner
This is my baby, a 2012 Roadliner in "Seashell:"
OWNER:
sscottab
2012 stryker raven