Discussion Starter
•
#1
•
YOU ARE VOTING ON OCTOBER BIKE OF THE MONTH
OWNER:
CalgaryGord
2006 Roadstar
OWNER:
87stocker
2008 V-Star 1300 Tourer
Bought the bike on the coldest day last winter, last year. Backed the trailer into the shop and modded before I rode it. Pipes and Programmer before I even hit the pavement. Put 10000 kms on it this year and wore the Excedra right off. Commanders now. Home made intake(details found in a post in the mod section.
OWNER:
derailed75
06' Road Star Silverado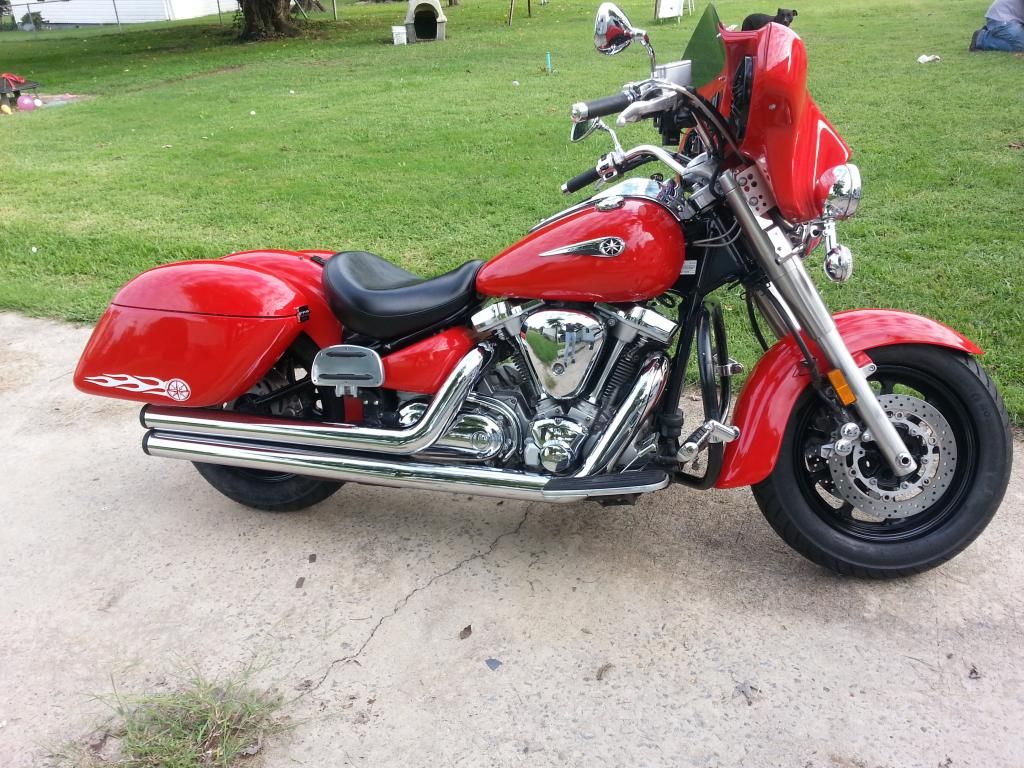 changed the seats out to non-studded. Painted the rims black and changed the tires out to black walls. Added Tuskayu strong hard bags. Reckless fairing Viper Red paint. A few custom decals. Only changes I have planned still to do are Freedom true duels, PCS lowering bars, Rear fender rack and Race tech springs.
OWNER:
Jkden
2002 RS Warrior
Eng size: 102 cu.in
Modifications: Stage 1 kit with V&H bigshots, Churchkey VBAK kit, coil relocation, Powercommander PCIII custom mapped.
Accessories: T Bars, quick release saddlebags, lower fairing, upper mini fairing, relocated brake caliper and custom rear brake reservoir relocation, lots of blacked out bits and pieces
Length of time to build: 6 montsh
And the story/inspiration/additional comments: Took this as a stock bike and slowly have been customizing to my liking... thanks to many hours spend with the brothers at rswarrior.com. She rips!
OWNER:
Jkden
2008 Road Star
Eng size: 102 Cu. in.
Modifications: Yamaha speedstar longshot exhausts, 45mm throttlebody and y pipe, Baron VBAK, PC III custom mapped
Accessories: Granucci seat, lots of chrome bits added, beach cruiser bars, custom paint
Length of time to build: 16 months
And the story/inspiration/additional comments: I bought this as a salvage unit, was in an accident per the attached pictures. As a labour of love I have been slowly replacing the bent metal, added some shiny stuff and some small performance mods, and now she is back on the road! I had a blacked out Warrior, so my goal was to make this one as retro California Cruiser style as possible with lots of shine. I like the result, not overstated but just very very cool. I hope you like my story of not letting a 'Star die, but resurrecting again! Now I can pick which bike I go for a rip on, sweeeet!
OWNER:
tigrzeye
2014 Strat Deluxe
OWNER:
Rocketeer
2007 650 Classic
Year: 2007
Make/Model: Yamaha Classic
Eng size: 650
Modifications: Whole bunch of satin black paint, El Diablo 12" Apes, Cobra exhaust, jetted carbs with hidden air filters and carb electronics removed, lowered, white walls, 5.5" headlight, Yamaha comfort cruise seat, rear fender smoothed, side mount tag bracket with Model T tailight
Accessories: Me and 93 Octane
Length of time to build: Few late nights and weekends