Discussion Starter
•
#1
•
Hello all!
I finally "gave in" and bought a motorcycle that wasn't covered in plastic or could go over 280km/hr.... LOL.
That's a good thing though... I've been riding for years (over 24 or so) and racing for the last 10.. I finally decided to keep the race bikes for track only use, and I always wanted a "big" V twin cruising/touring bike that was comfortable, but "fun" and powerful enough for two up. I looked at many bikes like the Nomads (I'm a Kawi guy at heart, having several "team green" race bikes), Intruders, VTX, etc, etc. I also instruct part time as a motorcycle safety instructor (we work for the province and teach students to prepare for the motorcycle operators license) and a fellow instructor had a beautiful Road Star 1700 and once I saw it, I knew I found what I was looking for. I'm full time Navy, and a LOT of my co workers had various model HD's and try to convince me to "join" them, don't get me wrong, HD does make some pretty bikes, but, having rented many of them in foreign ports, I actually was never a fan of the power (or lack thereof) and some of the build quality.
I did some online research about the Road Stars and several local bike shops (including our local HD shop) said, and I quote: "Buy a Roadie, it will outlast you"... LOL... So, the hunt was on! I originally wanted an 04 up, for the alloy wheels, but, I just recently spotted a one owner (extremely well cared for) 99 in an amazing color combo (to me I thought it was anyway, it was the color combo that "got me") and I just had to have it! Everything about this Silverado model just struck me. I've always had sport bikes that were very "low key", with matte surfaces and black frames and parts that blended into the machine. If it didn't make the bike faster, it didn't belong on it, etc. But this shining piece of "art" just begged you to look at it and admire it for what it was. I absolutely am convinced that next to the Indian 111 Thunderstroke, the 1600/1700 Road Star twin motor is the most beautiful lump of steel and chrome to grace a motorcycle frame. I casually said the original owner, as he reluctantly handed me the keys (he sold due to failing health), "that if an alien species landed on our planet and asked what a motorcycle was, simply showing them a Road Star would be the perfect example for them to understand". I think he got just how much I liked his motorcycle and knew I would take care of it.
LOL.. sorry for the long winded introduction, but, I'm a motorcycle nut, and I firmly believe that there really isn't a "bad" motorcycle out there, you just have to find the one that "speaks" to you.... I found it. I'm in love with this beast, and now I want to buy another for my wife....
Here is a few very crappy cell phone pics from last night, I literally just got her home from buying her and parked in the garage. It is a 99 Road Star Silverado in one of the coolest color combo (not sure the color names yet). It does have the saddle bags and windshield, plus the original owner gave me a "bat wing" fairing for it as well. I just took everything off to begin cleaning. (not used to polishing chrome yet.. but, I think I will get used to this...hehehe)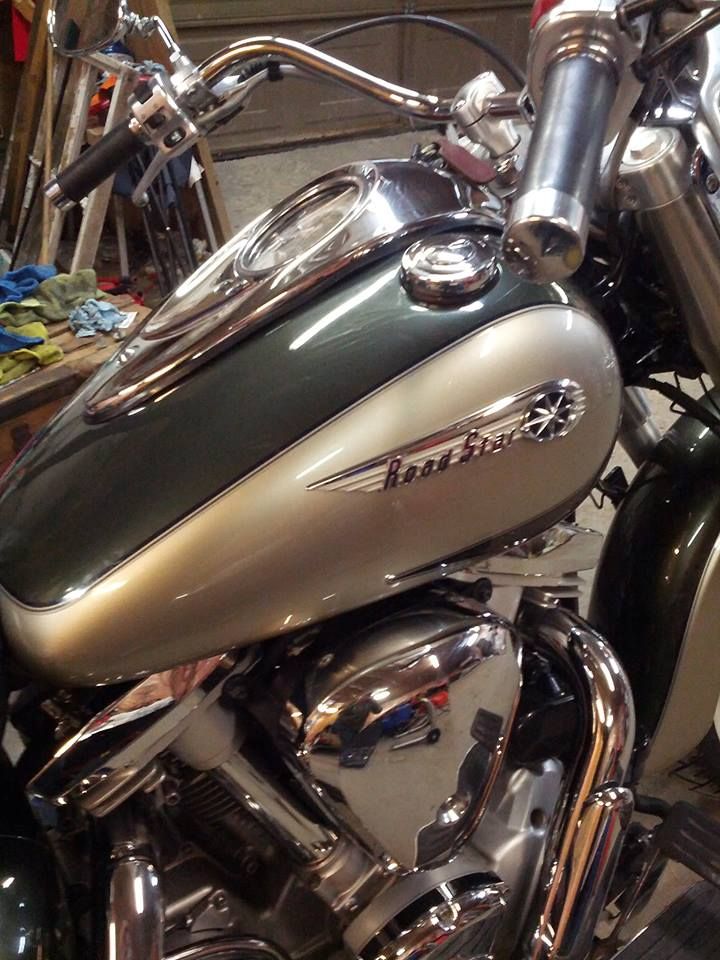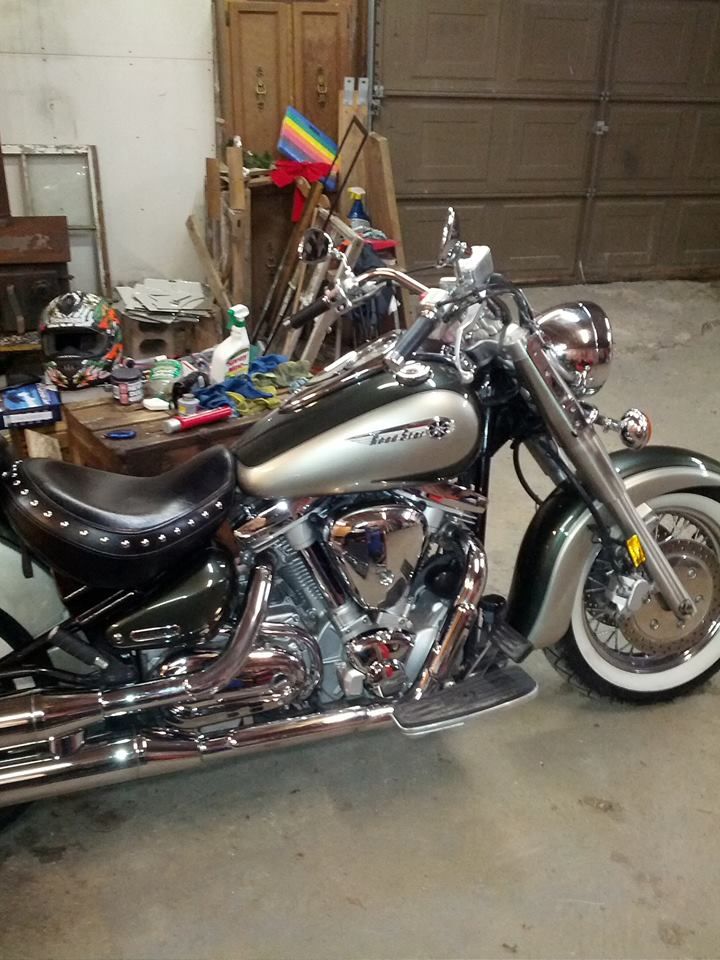 I've already learned quite a bit from "lurking" on the forum before I bought, you guys are wealth of good info, thank you. I'm taking the rims off tomorrow for new tires (another set of Wide white wall ME880's of course) and possibly a set of pipes and hypercharger intake and rejet the carb. Maybe some EBC HH pads and steel braided lines (coming off of race bikes, I'm used to very good brakes). Everytime I ride this bike, I can't stop grinning.... this is what its all about.