Hello everyone!
I'm new to the forum but a moderator suggested I submit for BOTM and I thought I'd give it a try. I just finished the mods for my bike (to date) and I'm very happy with the final results.
As it sits right now:
Close up of the finish: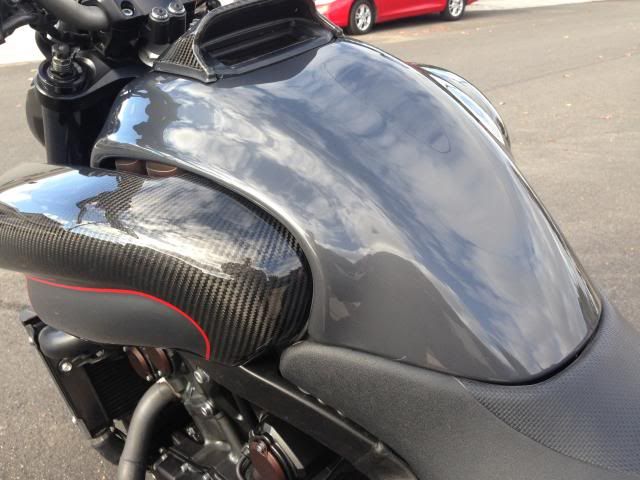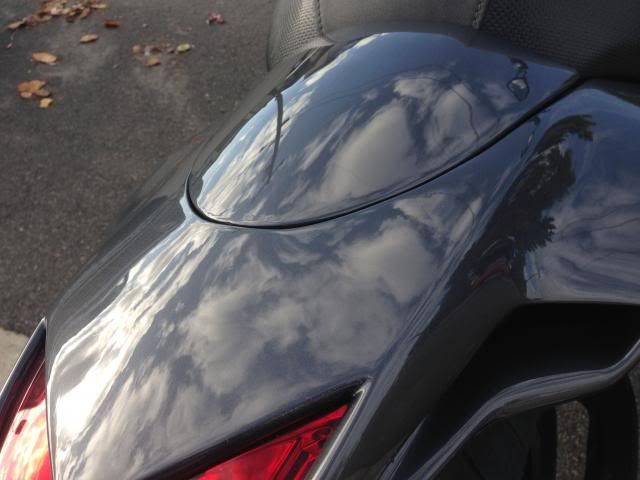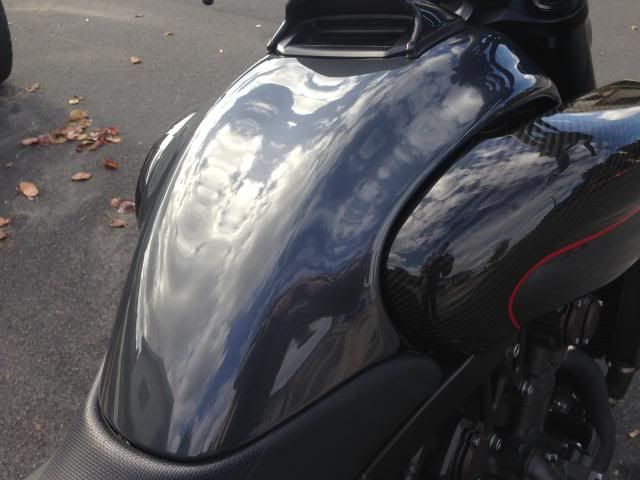 Before the wrinkle black PC on the cam covers/foot stays and before the carbon fiber wrapped LSL bars.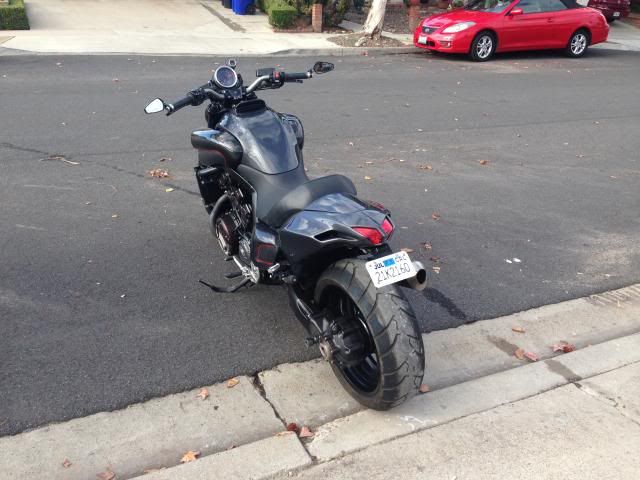 Hello,
Here is my 2012 Vmax. I bought the bike with 269 miles at the beginning of the year. I guess the original owner bought it and decided it was too wide for his short legs considering how much of a handful it can be to ride. When I bought it the bike had the passenger backrest and luggage rack, carbon scoops and the carbon gauge cover on the tank.
I've made a few changes to the bike since then and here is the short list:
Engine:
Initial flash by Nash
Final tuning by Cyclemall
Air filter and block off purchased from Nash
Brock's header and Hindle can purchased from Nash
Bodywork:
OEM Yamaha carbon scoops painted and cleared by SBKPaint
OEM Yamaha Carbon gauge cover
Optimal Carbone "Mangousta" tail
Carbon Side covers by Magical Racing. Painted on the face and around the perimeter by SBKPaint
MV Agusta OEM tail light
Custom gun metal grey paint by SBKPaint
Hand applied pinstripe performed at SBKPaint
Wrinkle black powder coating by R.W. Little applied to:
Radiator shrouds
Front fender struts
original side covers
cam caps
swingarm pivot covers. (Center is plastic, no PC)
Foot stay brackets
Rear brake lever. I left the shifter alone because it gets rubbed too much by my boot
delrin spools to pick the bike up
Controls:
CRG aero mirrors
LSL Carbon wrapped Superbike bend fat bars
CRG Knock-off levers from Ebay (slow boat from China delivery)
Dead man switch and Lanyard for "pro series" race class
Future changes to the bike will be adding a quick shifter and adding caliper brackets so I can strap the front down at the drag strip. I want to pick up a spare rim so I can keep a drag slick ready to swap into the swing arm for racing. I'm sick of burning up the tire I ride around on the street with. lol. I'm not sure how far I will go modifying the bike for drag racing as of right now. I really love riding it around town so I think it's always going to be a compromise between street and track. Would be a shame not to be able to enjoy it whenever I want to just hop on and ride. More pics below this post. I was only allowed 8 photos on the first post.