Discussion Starter
•
#1
•
I have Hard Krome Staggered Straights on my V Star: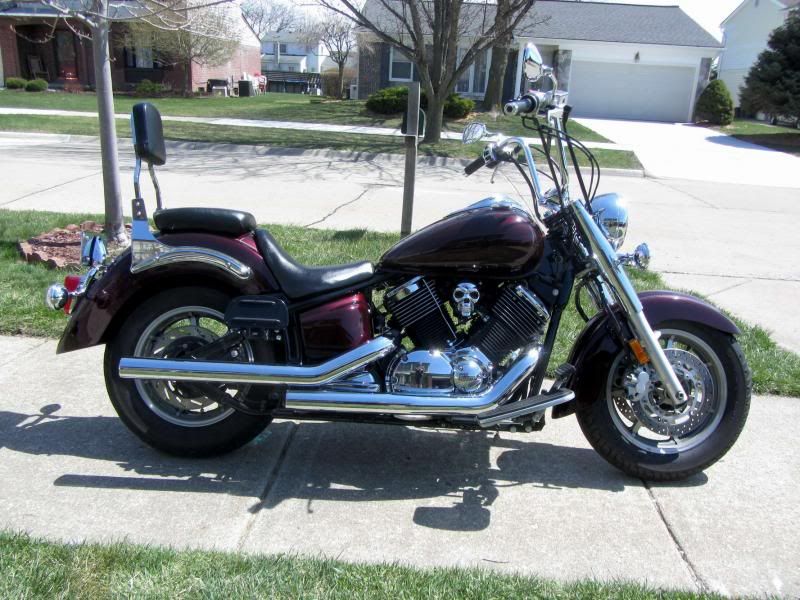 And a Radius system on my Custom:
When standing still or next to the bikes, the Custom is LOUDER then the Star. But when riding, the Star is a lot louder (for the rider) than the Custom is. Im thinking about replacing the pipes on the Star to something that goes all the way to the back of the bike to quiet down my ride a bit. I can ride the Custom all day and the pipes dont get to me, but the Star within 30 mins I am wishing I had brought ear plugs. It sounds great with these pipes but I just dont want to take the punishment 100% of the time.
Im thinking these:
http://www.ebay.com/itm/Cobra-Lo-boy-Shotgun-Pipes-Exhaust-Yamaha-V-Star-1100-Custom-Classic-Silverado-/321259119478?pt=Motorcycles_Parts_Accessories&fits=Model:V+Star+1100&hash=item4acc892376&vxp=mtr
or These:
http://www.ebay.com/itm/Road-Burner-Exhaust-Pipe-Yamaha-V-Star-1100-RB-01-4020-14-/121207288708?pt=Motorcycles_Parts_Accessories&hash=item1c38847384&vxp=mtr
I know the Custom dumps to the ground and that likely helps but I dont think theres a pipe out there for the 1100 than dumps to the ground.