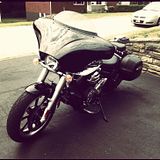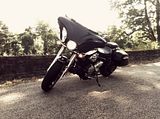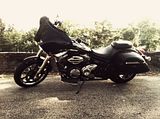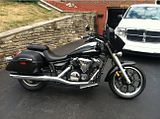 Year:
2010
Make/Model:
VStar 950 Tourer
Eng size:
950
Modifications:
Exhaust, Fuelpak, Fairing
Accessories:
ISO Grips, CellBuckle
Length of time to build:
2 months
And the story/inspiration/additional comments:
Well here is my VStar 950 Tourer. I bought it this last March 2012 as a leftover model. As a HD owner for years I never thought I would fall in love with anything else until I rode by buddies VStar 1300. Well story short I fell in love and decided to go with the 950 due to its muscle stance and great potential of becoming a nice bagger. So with that being said farewell to my HD and hello to my new VStar. I have only had her for a few months so I have only done a few things within my budget but so far I have added V&H Twin Slash Slip-on with a V&H Fuelpak. I have stripped the backrest off and the windshield to installed a Sportech Fairing, I have added the Kuryakyn ISO Grips with the Throttle Boss, Cell Buckle for my iPhone. I am getting ready to lower her by 2 inches and planning to add an air intake after some much needed overtime at work to fill my piggy bank back up. So here she is. Hope you like it.
Thanks for checking out my new ride.