Had a great ride today with
@BayouSaint
that rode in from Houston to Bandera for the Rally. He asked if I would show them the Twisted Sisters. Sure, no problem. Then he said a few more of his friends from out of Dallas area wanted to join, then a couple more joined. We ended up with 9 bikes total. Most were not familiar with area at all and was impressed with ride. I want to thank
@BayouSaint
for asking me to lead the group and have confidence I could handle it.
Getting group together.
Never played Road Caption for a larger group like this. Didn't lose anyone and no one wrecked, so good day for a group of riders that had never ridden together.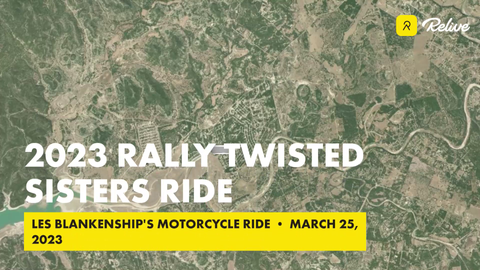 View my motorcycle ride: 2023 Rally Twisted Sisters Ride
www.relive.cc
We stopped at the Bent Rim Cafe, over an hour wait for food, so we didn't stay.
@AlanRides
and
@Jspree
, remember the intersection where we wrote our names on the rocks?
We stopped to do the same thing. Another group turned off main road a tad to fast and went down. Then the next 4 riders hit him and his bike. Sorry, no pictures, didn't think that would right. Everyone is going all right but some bad road rash, possibly broken ankle and a lot of messed up bikes.
@Brad_G
and
@Digger
, watch the video closely, y'all will be on this road soon, can't wait.