Discussion Starter
•
#1
•
Long read about a series of unfortunate events--hoping someone can stick it out and offer some help. I'm going bats trying to figure it out.
While replacing the starter clutch on my 02 1100 I
think
the crank moved a little without the rear cam gear. I can't be certain--I think it happened while I was pulling the rotor off after whacking the wheel puller bolt. I don't believe it moved much if at all but I was focusing on keeping the springs and pins on the back gear of the starter clutch assembly from becoming shrapnel. Unfortunately I got ahead of myself and decided I should mark all the gears
after
I had pulled the rotor so I don't have any reference to make absolutely certain and I did not set it at TDC because I read that it really isn't necessary--just be sure not to move the cam gear without the crank. OOPS!
So now, ready to reassemble and wanting to make absolutely sure I have the timing correct I read that I "have no choice but to Remove the Clutch Side Cover and rotate the crankshaft, making sure the Cam Chains remain tight so you don't kink them...and keep rotating until the front cylinder Crankshaft sprocket alignment dots match up. At that point your Flywheel should also be TDC with the '|' mark showing on the timing point.....engine....once they are aligned your front cylinder is definately at TDC and you can then set your Cam
Timing accordingly."
This is all well and good. Figured nothing with the front jug timing changed so its valid reference point. Here is my concern:
the timing marks line up on the front Cyl: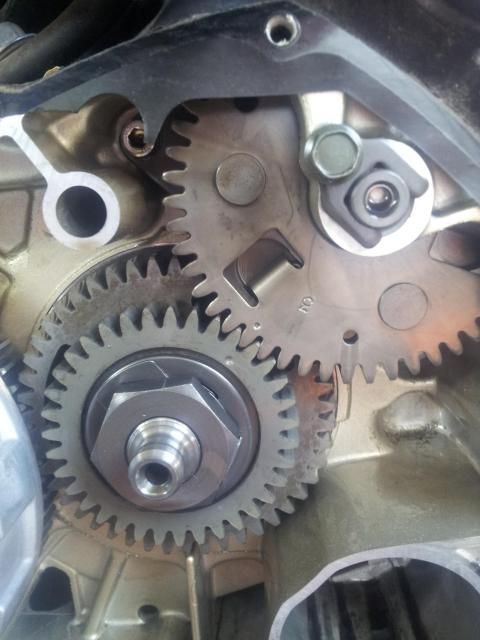 and the l mark is on the timing point:
But the front cam gear is 180 degrees off:
..so now I'm extra confused not knowing if someone just installed the front cam gear 180 degrees off or if I need to keep turning until all 4 marks are aligned. Also, even if all the marks did align, how do I get the rear at TDC from that point to line up the cam correctly?
I'm thinking I should just try to line up the rear timing marks to see if I can get the rear at TDC and check for play in the rocker arms.
My neighbor is under the impression that I wouldn't be able to rotate the engine with a socket wrench if a piston was hitting a valve.